Offerpad is a real estate technology company that focuses on buying and selling residential real estate in 14 markets across the U.S. Offerpad makes fair market cash offers to sellers within 24 hours and can close in 10-90 days from the time you go under contract. Overall, compared to other iBuyers, Offerpad seems to have issues with their customer service, quality of repairs and true costs to sellers.
What's worse is that home sellers must sign a binding contract before they receive a final offer price for their home. Further, if you decide to cancel the contract for whatever reason, you will be charged a 1% cancellation fee.
How Much Does Offerpad Cost?Like other iBuyers, Offerpad wants to disrupt the real estate market by providing cash offers as an alternative to the "time consuming and uncertain" process of selling your home in the traditional manner. Offerpad purchases your home from you, takes care of any renovations or repairs before selling it back to an end buyer. In exchange for these services, they charge sellers typically 7% plus closing costs although their seller fee can range from 6-10%.
Further, in the fine print, Offerpad states "We reserve the right to change the price and/or credits if we discover that the condition of the house is not consistent with your description, or that the information provided by you is otherwise incomplete or inaccurate. Any such change will require your approval, but if you disapprove, Offerpad may terminate the PSA"
Yep, that's right. They can back out of the deal for whatever reason but if you want you, you have to pay a penalty fee of 1% of the agreed upon sales price.Offerpad also estimates that the seller will pay an additional 1-3% in closing costs.
The total percentage to sell to Offerpad ranges from 7-13% plus the cancellation fee of 1%. The repair costs are variable and could reduce your net profit between $0-10k+
What Types of Homes Offerpad BuysOfferpad buys single family homes that are not manufactured, prefabricated or mobile homes. They buy homes that were built in 1960 or newer; they prefer newer homes. They won't buy a home that's worth more than $600,000 on more than 1 acre of land. If you have major mechanical or structural problems, they will also pass on buying your home. They are not like the company We Buy Ugly Houses.
Pros and Cons of Working with Offerpad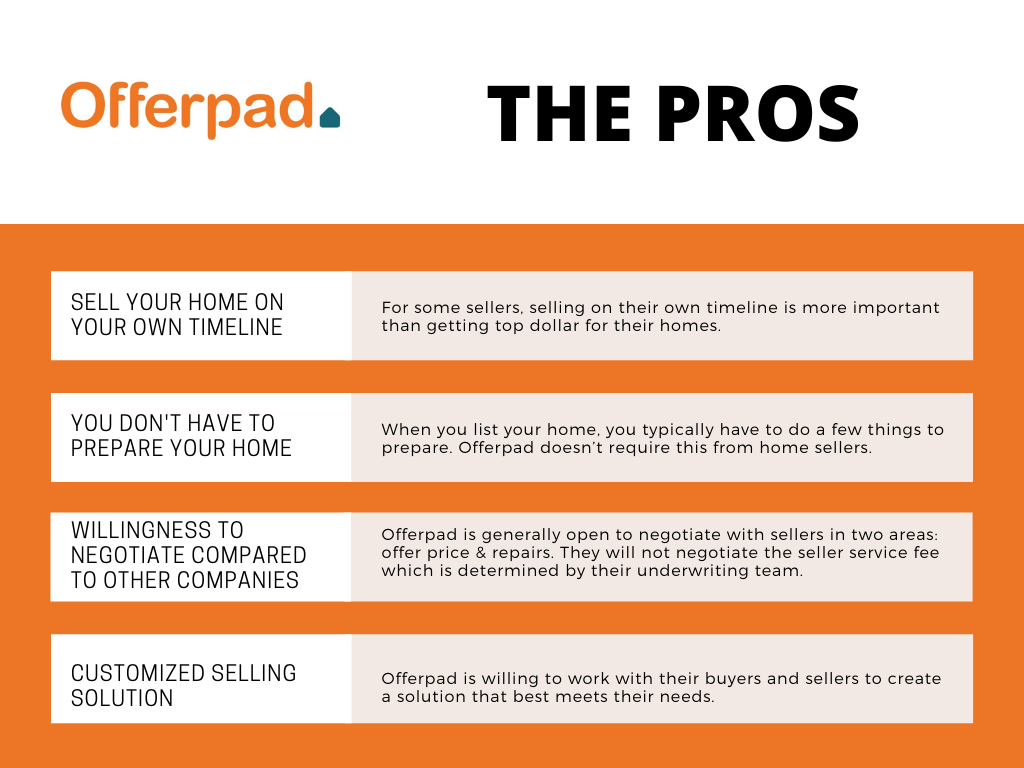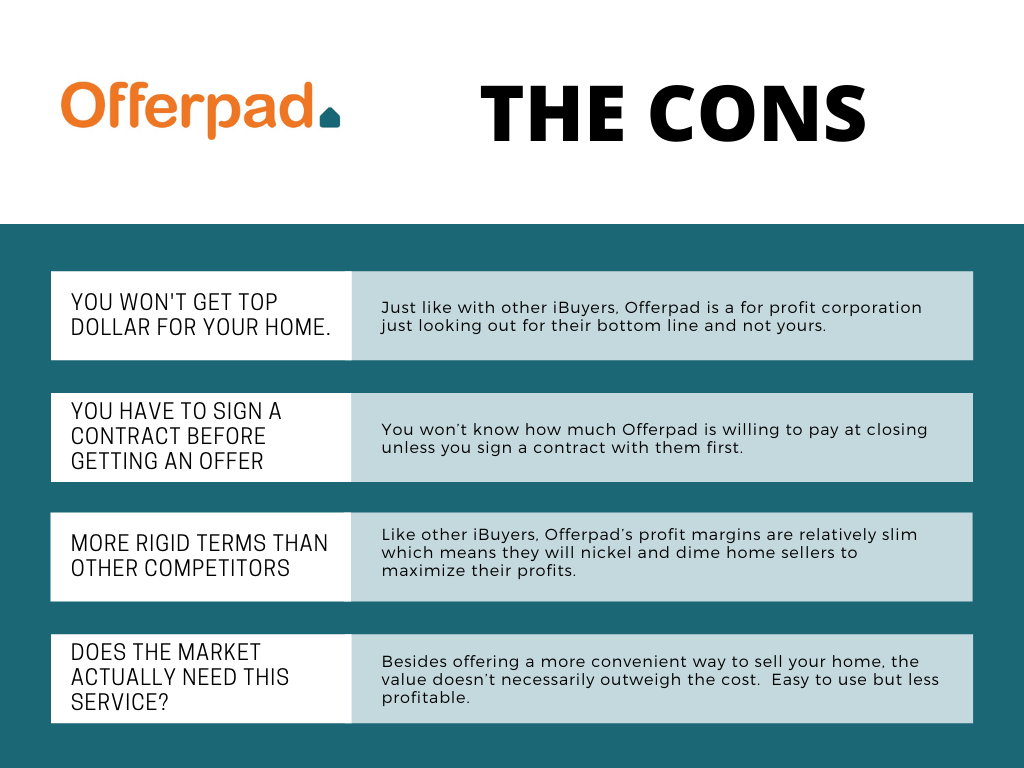 More Cons: Negative ReviewsOfferpad also has an overall 1.77 average star review on these websites:


How Offerpad Buys Homes in AtlantaOfferpad has a team of both in-house staff and third party vendors. Offerpad employs people with real estate experience to help analyze homes submitted for offer requests online along with their company's unique algorithm. Because you will be working with their staff, you may not have a direct point of contact within their company. Just like with other iBuyers, Offerpad wants to know about your home before making an offer. You can use their website to submit information like the age of your home, the layout, any additions (permitted or not), types of floor and countertop coverings along with appliances and your desired closing date. You will also be able to upload photos of your home to show them what it looks like, which they highly recommend, to help them produce as accurate of an estimate as possible. If they like your home, you will get an offer in as little as 24 hours. Offerpad gives you 4 days to decide whether or not you should sell your Atlanta home to them before your offer will expire at which point you can renew the offer which may be higher, lower or the same. If you accept the offer, you are now under contract. Unlike other iBuyers who typically tell you exactly how much the repair costs will be up front, Offerpad works more in the traditional sense meaning that they will come and inspect your home after you go under contract, just like a typical buyer would. After you go under contract, Offerpad requests a longer than usual inspection period. Right now, the average number of days to inspect in the Atlanta market is 7-10 days whereas Offerpad wants 15 days to inspect. The Offerpad inspector will go over your house with a fine tooth comb and report back to Offerpad with their findings where Offerpad may choose to update their offer or back out of the deal entirely. Unlike other iBuyers, Offerpad gives you a choice on how you would like to proceed with making the repairs that they deem as necessary.
Offerpad will ask for a seller concession to cover the repairs -For high dollar repairs, this may be your only option.

Offerpad will allow you to make the repairs according to their specifications -Offerpad will inspect the home two days before closing to ensure that all of the repairs have been completed before you get to the closing table.
Atlanta home sellers will only be given 4 days to review Offerpad's updated offer. After that, you will be charged a 1% cancellation fee based on the agreed upon sales price.Other Offerpad Atlanta Service Offerings Extended Stay ProgramOfferpad will allow you to stay in your Atlanta home for up to 3 days after closing. If you need to stay longer, you can stay for up to 60 days for a one-time fee which may work for some sellers who are buying a home that they have not yet closed upon. You will be charged a security deposit of $3,000 which is held by their closing attorney from the net proceeds of your home sale to be refunded to you after you move via wire transfer. The cost to stay for up to 60 days is 1.5% of your sales price. Free Local MoveOfferpad will pay for your move if you are moving within 50 miles of your original home. They will move you for free for homes that are 2800 sq ft or smaller. Atlanta sellers must take advantage of this program by notifying Offerpad with a minimum of 7 to 21 days notice prior to closing. If you have a larger home, need packing services or are moving farther away than 50 miles, you can purchase additional services directly from the moving company that you are paired with. Offerpad FLEXYou have the option to allow Offerpad to list your Atlanta home for sale if you feel like the offer they have provided you is too low. The offer is good for up to 90 days while your home is on the market. However, we would like to note that not all homes qualify for a cash offer. Even if you list the home with Offerpad, you may not be extended this service. They also state that they provide complementary services that include whole house deep cleaning, handyman services and landscaping services. For handyman services, Offerpad will advance the funds to you so that you don't have to pay up front for repairs or renovations. They will assign you with a project manager who will take care of the repairs for you. Final VerdictOfferpad does offer some other key incentives not provided for with other companies like Zillow or Opendoor however with their poor reviews and hidden fees, Offerpad doesn't appear to be a viable option at this time. With two new executive hires for Offerpad in November of 2020, things may change for Offerpad in the near future, stay tuned.