Companies like Zillow and Opendoor have changed the real estate market. They are what we call "iBuyers" meaning they will buy your house off market.Companies like Zillow and Opendoor have changed the real estate market. They are what we call "iBuyers" meaning they will buy your house off market. In turn, you avoid the traditional listing grievances such as foot traffic, appraisal shortfalls or failed buyer financing. This is not a new phenomenon. In fact, individual house flippers and wholesalers all have similar practices. They want to buy a house below market, do minimal work and put it right back on the market for more money. Yes, you heard that right, they will buy your house quickly and you don't have to make any repairs. They will get your carpets cleaned and maybe paint a wall or two then put it back on the market for $10-30k more than what they bought it for. Let's get down to the facts. What is an Atlanta iBuyer? The "i" in "iBuyer" stands for "internet" or "instant." An iBuyer is a company that buys properties using an automated valuation model (AVM) along with other technologies to buy your home quickly and for cash. In the past, iBuyers would buy homes sight unseen but because of changes to the market, they will generally send someone out to view your home and evaluate it for repairs. While they will buy your home for cash, it is important to keep in mind that when you sell your home, that you will receive cash even if someone is obtaining a mortgage. For example, the sales price of your home is $240k in which a buyer is getting a mortgage for 30 years, the mortgage will put a lien on the buyer's home and pay you the entire amount due at closing, in cash.Because Internet Buyers or iBuyers use online systems to evaluate and process your offer to get you to closing, some technical familiarity will be required. You must have a computer, a way to print out documents, if needed, know how to e-sign documents online and how to upload photos and/or documents in your designated portal. Not only that, you will need to have the ability to understand the language in the sales contract along with the ability to negotiate your own deal. iBuyers are out for their bottom line, not yours. What types of homes do iBuyers in Atlanta buy? While it is true that you won't have to make any repairs to your home in order to sell it to an iBuyer, they will want to make sure that your house needs minimal repairs because it will be their goal to get your house back on the market as quickly as possible. They will not generally buy homes that need a ton of work. They prefer to buy newer homes with 1-2 stories with 3 or more bedrooms, 2 or more bathrooms on less than 2 acres of level land. They prefer to buy single family homes or single family townhomes and not prefabricated homes, mobile homes, condos or multi-family units. They also avoid homes that may be in poor school districts.If you have a home that needs more than $5,000 in repairs then selling to a iBuyer will not be the best option for you. What is the process to sell to these iBuyers in Atlanta? Typically, you would fill out a questionnaire online answering questions about your home so that a preliminary review can be made. If the iBuyer is interested in buying your house, they will send you an offer or an email letting you know that they aren't interested. They will send you an offer based on an online automated valuation model without seeing the home in person first. This offer will be based on information that you provide in your questionnaire and also from the tax records. They review homes that have sold in your area in the past 6 months in a similar size and age range.Next, they will give you several days to think about the offer. The offer consists of a transaction fee, closing costs and your net proceeds. Yes, you heard that right, they will charge YOU fees to sell your house to them. They charge you a transaction fee which can be up to 7%, plus closing costs which is 1% more than a typical Agent's commission.Once you accept their offer, they will send someone to come out and assess the home to identify any potential issues for repairs. If any repairs are needed, they will ask you for a credit and deduct the actual repair costs from your net proceeds. The repairs are typically made after you've moved and they've purchased the home from you with some companies making those repairs before they actually close on your home, yes, while you are still living there. With their home evaluation and repair contractors, you could have a number of people visit your home prior to closing.When you are ready to close, they will schedule the closing date up to 60 days from the time that you go under contract giving you time to move out.Some things that you need to be aware of is what you can and cannot leave at the property. For example, if you have additional flooring and paint that you would like to leave at the property, they may charge you to dispose of these items. If you fail to leave the appliances, keys or any remotes, they may charge you to replace these items. You must remove all furniture or trash and clean the home. Who are the most popular iBuyers in Atlanta? Click each link to read more about each iBuyer and learn about their processes along with any fees that they may charge. Zillow OpenDoor OfferPad Orchard Is selling your home to an Atlanta iBuyer worth it in the end? There are pros and cons to selling your house to an iBuyer.Here are some pros listed on iBuyer websites: with a splash of reality:
You don't have to pay for repairs, stage your home or even clean it

: While this is true, you're going to want to make sure that your home is as presentable as possible at the time of the iBuyer inspection/evaluation. They will note ALL repairs that will be needed in order for them to put your home back on the market, and this can take away from your expected net profit.

No home tours

: Sure, no home tours but you will have people in your house inspecting or making repairs to your home. You still need to allow the iBuyer into your home when they want to come and reinspect. Being that we are in such a sellers market, sellers now have the opportunity to limit the days that their listing will be shown therefore neutralizing this 'pro.'

Control of the sale timeline

: Yes, this is true, however, when you are under contract with a traditional buyer, you can outline the terms of the contract timeline as well.

Flexible closing date

: Some companies can get you to the closing table in as little as 14 days if there isn't anything wrong with your house. If they need to make repairs or if you need time to move, they can take up to 60 days to close which is longer than industry standard.
More Cons: The Fees: Selling your home to an iBuyer is going to cost you. The initial offer that they provide you generally does not stay the same after your home is inspected. They will charge you fees for small items that you won't anticipate. For example, when they initially inspect your home, there is furniture in it. When they do a final inspection, with the furniture removed, they may find other items that need to be repaired or replaced further reducing your net profit. Selling Your House at a Discount: The point of the iBuyer buying your home is to get a good deal on an off market property, just like other house flippers and investors. This means that you are GIVING AWAY the hard earned equity in your home that took years to build, in exchange for the "convenience" of selling to an iBuyer. You can list your home on the market at a slight discount if repairs are needed. Otherwise you may be providing iBuyers with deep discounts just because your house needs paint or other small repairs. Less Foot Traffic = less eyes on your property = less offer opinions = less net profit. Here's a breakdown of some of the costs of you selling your home to an iBuyer versus a traditional buyer. Let's use Zillow as an example.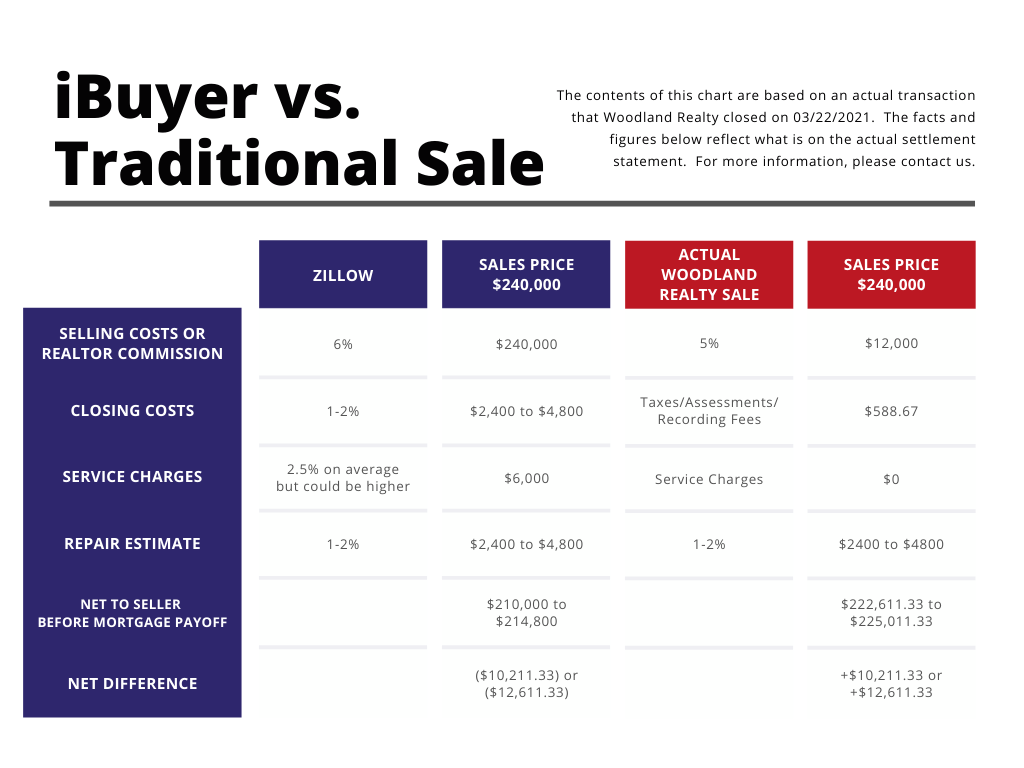 Here are some alternatives

I don't have the money to pay for repairs nor do I want to deal with repairs.Ok, no one wants to deal with repairs let alone spend money on making repairs but there are companies that will come to your home, make the necessary repairs and send the invoice to the closing attorney.
The alternative is to offer your home as-is at an asking price slightly below its market value.  This will also help to drive more offers to your home.  Buyers are now willing to pay for homes that potentially need repairs.  They can make updates to the home, making it their own and save money on buying a completely renovated home.  It's a win-win situation for everyone.
One of my systems isn't functioning properly.  For example, the furnace has issues.This comes down to the type of financing that you would be willing to accept for your home.For conventional loans, if there is something wrong with one of your home's systems, then it won't matter to the conventional lender.  It will, however, matter to an FHA lender.  The FHA lender wants to make sure that the buyer can move in on the day of closing.
At Woodland Realty, we provide you with a home warranty that will cover any repairs that may affect any of your systems while it's listed for sale for FREE.  You can then choose to pass on the home warranty to the buyer for about $400.  If you have an older furnace for example, selling your home as-is while offering a home warranty makes the deal more attractive to buyers.  If something goes wrong with the furnace in the future for the new homeowner, they can call the home warranty company and they will replace the furnace if needed.

But I want the cash in my hand as fast as possible.  I don't want to wait for a buyer's financing to fall through the cracks.
This is a reasonable ask but are you willing to sacrifice the equity in your home and the potential net earnings that you would receive by waiting 30 days to close on your home?  Would you advise others to do the same?  
At Woodland Realty, we verify all offers by calling the lenders of the buyer approval letters that we receive.  We call and ask if they have submitted their documentation and where the buyer is in the underwriting process.  
Some alternatives to consider would be to ask for more earnest money and shorten the financing contingency period.  If the buyer is serious, then they would be willing to reduce the number of days in their financing contingency and offer more earnest money. In Atlanta, the standard financing contingency is 21 days.  We can ask them to reduce them to 14 days.  Also, the standard earnest money deposit in Atlanta is $1000 but we could ask for $2500 or more instead.
Whether you are considering selling your home to an iBuyer or not, it is important for each individual to assess their financial situation before making the decision to selling their home to a multi-million dollar corporation.  It's not a decision to take lightly.