Orchard, once called Perch, rebranded back in September of 2017, is a real estate brokerage with offices headquartered in 4 major cities across the country. Orchard is not a traditional iBuyer in that their goal isn't to buy and resell homes. Their focus is to help Georgia home sellers make it easier to finance the purchase of their new home before selling their old one. Orchard will list your home for sale and if it doesn't sell within 30 days of being listed on the market, Orchard will purchase it directly from you. Orchard could cost Georgia homeowners up to 10% or more in service fees, convenience fees and closing costs.
How Does This All Work?
Orchard helps Georgia home sellers to buy their new homes before selling their old homes by allowing sellers to access up to 90% of their home's equity to use towards the new home purchase. They state on their website that this helps the seller become a "non-contingent buyer." We aren't exactly sure what this means or why accessing some of your home's equity makes you a non-contingent buyer. We can only speculate, because it's not on their website, that they are referring to the contingency commonly added to purchase and sale agreements where buyers have to sell their current homes before closing on the new one. By allowing sellers to take out the equity in their homes before selling, Orchard is essentially offering a type of bridge loan but like with other bridge loans, you need to consider the associated costs.
How Much Does It Cost?
Service Fee

6%

Closing Costs

1%

Convenience Fee

If you sell to Orchard

1%

Payment of mortgage payments on new home

Unknown Figure

Repairs made on old home

Unknown Figure

Utilities and taxes for the new home

Unknown Figure

Cost for Offer Boost Program

Between $30-50 per day based on the size of your home and the location
Orchard Home Criteria
Like other companies, Orchard has a list of criteria that your Georgia home will need to meet before it will be considered for their program.  They list and purchase homes built between 1950 and 2018.  They buy homes in the Atlanta market between $150,000 to $600,000.
Move First Program
In order to use this program, you will need to go through a series of steps.  The Move First Program allows you to buy your new home before Orchard sells your old one.
In-home Assessment: Orchard will send someone out to your home to determine how much equity you will be able to access.

Home Equity: Based on the assessment, you may be able to access up to 90% of your home's value which you can use to put towards the purchase of your new home.

Purchase & move into your new home: Buy your new home while you wait to sell the old one making mortgage payments on the old home until it sells.  Orchard pays the mortgage on your new home but you will have to pay that back.

Orchard gets your home ready for sale: They will take care of cleaning, staging, and repairs to get your home ready to be listed for a cost, this isn't free.  They say "complementary" on their website but they charge for these services.

The new home is transferred to you: After you sell your old home, the new home will be transferred into your name.  You don't technically own it until this occurs.

Net Profit: Orchard will pass along any profits that you may have from the sale of your old home minus their 6% service fee and any other expenses that they may have incurred along the way.
Your home is listed for a 120-day period.  If it does not sell during this timeframe, Orchard will buy it from you for the Instant Equity Amount that you agreed upon up front.  You can choose this option or to walk away with no penalty.
Offer Boost Program
Orchard offers Georgia home sellers a way to make an all-cash offer on the purchase of their next home.  There's no additional fee for this service but you will have to use Orchard Home Loans as the lender for your new home purchase.  The origination fees range between 0-3% which is slightly higher than average
Pros & Cons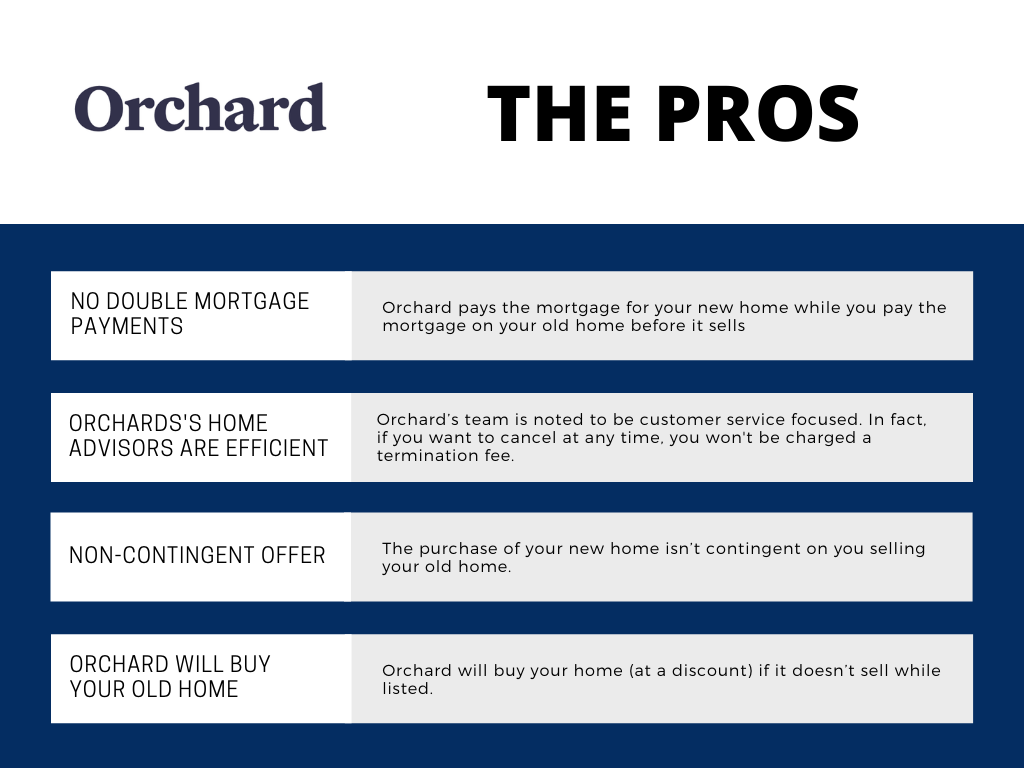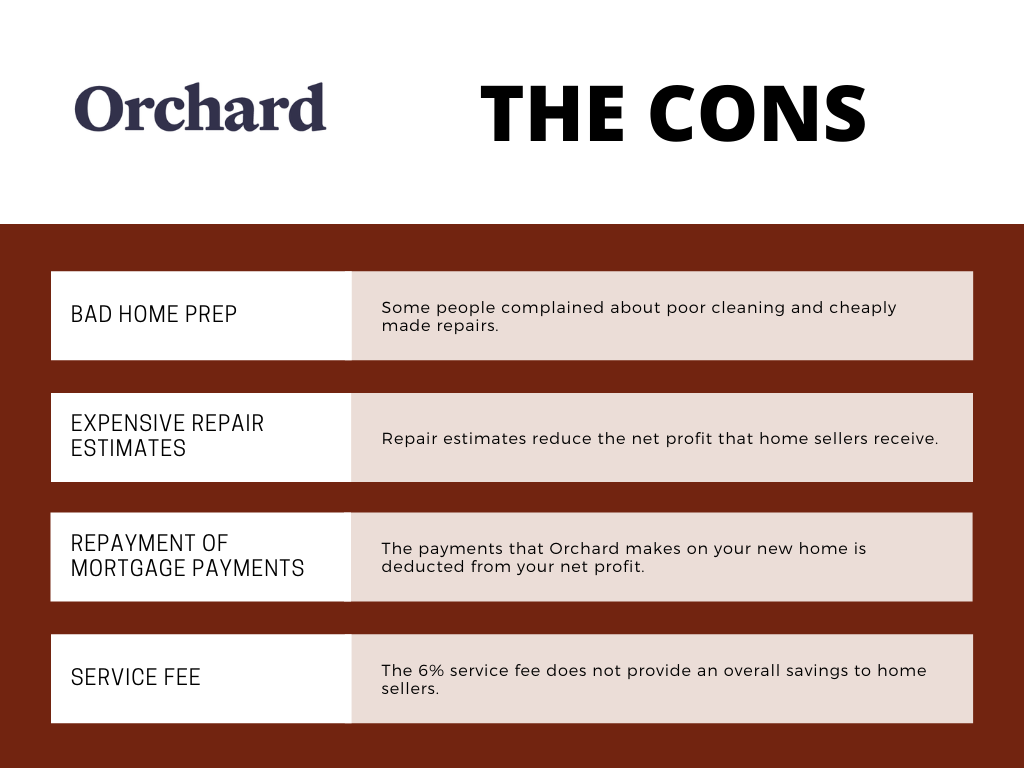 Final Verdict
Orchard is not technically an iBuyer as they are not in the market to buy homes from home sellers. Their overall goal for making money is to charge fees for their real estate brokerage services along with their mortgage services - a double dip if you will, which may be seen as a conflict of interest per industry standards. Orchard is for sellers who want to buy their new homes not contingent upon them selling their current home, who don't want to make two mortgage payments at the same time or prepare their home for sale. Orchard is similar to a service like Knock except Knock has lower fees. What do you think? We'd love to hear from you. Comment below.
Click here to read How to Sell Your House to Opendoor in Georgia